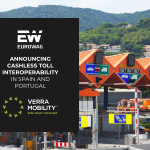 Verra Mobility Partners with Eurowag to Enable Delivery of Interoperable Toll Payment Solutions in Europe
July 1, 2021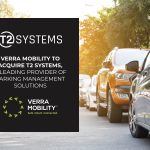 Verra Mobility to Acquire T2 Systems, a Leading Provider of Parking Management Solutions, from Thoma Bravo
November 2, 2021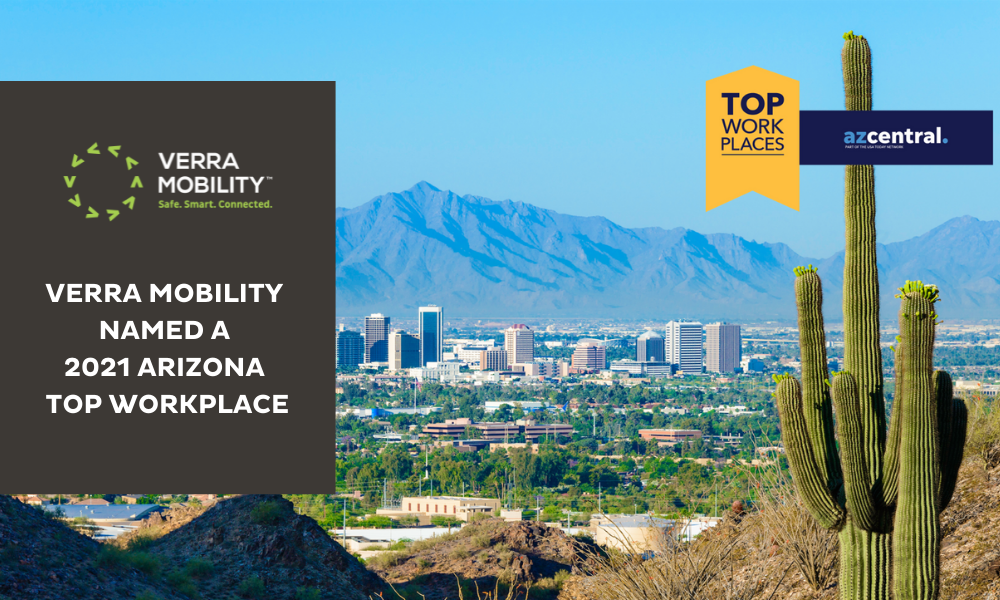 MESA, AZ. - Verra Mobility has been awarded a Top Workplaces 2021 honor by Arizona Top Workplaces. The list is based solely on employee feedback gathered through a third-party survey administered by employee engagement technology partner Energage LLC. The anonymous survey uniquely measures 15 culture drivers that are critical to the success of any organization: including alignment, execution, and connection, just to name a few.
"At Verra Mobility, we put as much focus on creating and engaging and fulfilling workplace as we do on driving core business outcomes while building for the company's future," says David Roberts, Verra Mobility CEO. "It's incredibly rewarding to know that our employees recognize and appreciate the engaging, values-based culture of performance we're building here together. This recognition is a tribute to all the effort and focus our employees continue to put toward making Verra Mobility a special place to work. I'm beyond grateful for their continued commitment and contributions."
At Verra Mobility, we know that we are only at the beginning our journey. The ongoing pursuit of transformative growth is one that we embrace with pride and excitement as Verra Mobility looks to the future of transportation. Each day, we strive to embody our core values as the enduring foundation for high performance, integrity, compassion and deep collaboration. Verra Mobility's success hinges on the vital role that our employees continue to play in rallying to the cause of our customers and communities.
"During this very challenging time, Top Workplaces has proven to be a beacon of light for organizations, as well as a sign of resiliency and strong business performance," said Eric Rubino, Energage CEO. "When you give your employees a voice, you come together to navigate challenges and shape your path forward. Top Workplaces draw on real-time insights into what works best for their organization, so they can make informed decisions that have a positive impact on their people and their business."
About Verra Mobility
Verra Mobility (NASDAQ: VRRM) is committed to developing and enabling the latest in innovative technology and advanced data intelligence to help make transportation safer and easier for all. As a global company operating in more than 20 countries, Verra Mobility is at the center of the intelligent transportation ecosystem – one that brings together people, vehicles, devices, information, and infrastructure to solve the most complex challenges faced by our customers and the communities they serve.
Verra Mobility inspires a world on the move by partnering with communities, transportation departments, law enforcement agencies, and school districts around the world, empowering every person and every organization to achieve safer mobility outcomes. It also serves the world's largest commercial fleets and rental car companies to manage tolling transactions and violations for millions of vehicles. A leading provider of securely connected systems, Verra Mobility processes millions of transactions through integration with more than 50 individual tolling authorities and connectivity with more than 450 issuing authorities. For more information, visit verramobility.com.
About Energage
Making the world a better place to work together.TM
Energage is a purpose-driven company that helps organizations turn employee feedback into useful business intelligence and credible employer recognition through Top Workplaces. Built on 14 years of culture research and the results from 23 million employees surveyed across more than 70,000 organizations,  Energage delivers the most accurate competitive benchmark available. With access to a unique combination of patented analytic tools and expert guidance, Energage customers lead the competition with an engaged workforce and an opportunity to gain recognition for their people-first approach to culture. For more information or to nominate your organization, visit energage.com or topworkplaces.com.