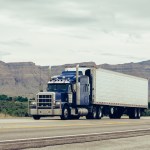 Verra Mobility Expands Vehicle Compliance Services for Commercial Trucking Fleets with New Arizona State Agreement
October 11, 2023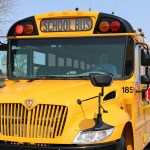 Yonkers puts cameras on school buses to catch scofflaws. Here are the early results
October 12, 2023

Welcome to National School Bus Safety Week, a time dedicated to ensuring the safety of our most precious cargo – our children.
National School Bus Safety Week is October 16-20, 2023. This year, we will Zero in on Bus Safety. 
The National Association of State Directors of Pupil Transportation Services (NASDPTS) annual survey shows drivers routinely ignore the stop-arm and illegally pass school buses. Throughout the 2022-2023 180-day school year, NASDPTS data shows approximately 43.5 million school bus stop-arm violations per year among America's motoring public.
"At Verra Mobility, we understand the critical importance of school bus safety. Our CrossingGuard™ school bus safety solution is designed to protect our children as they enter and exit the bus. Technology can play a pivotal role in enhancing school bus safety, and we are dedicated to making this a reality," said Jon Baldwin, EVP of Government Solutions at Verra Mobility. "School buses are not just vehicles; they are vessels of education and care for our children. Let's work together during National School Bus Safety Week to reinforce the importance of safe school bus transportation making sure every child's journey to school is a safe and secure one."
"School buses carry our most precious cargo, our children," said Melissa W. Wandall, president, National Coalition for Safer Roads. "When driving, it's important to stay alert and drive with caution when children are present. Let's Zero in on School Bus Safety and support law enforcement, school bus drivers, and crossing guards who work tirelessly to keep children safe as they head to and from school. Remember, safety saves lives and together we will drive down heartache on our roadways." 
THE NUMBERS
The future of school bus safety is looking bright. Now more than ever, we can create innovative solutions to combat this serious safety issue. Modernizing our school buses and implementing technology solutions can change driver behavior and keep our children and communities safe.
2022 School Bus Stop-Arm Camera Trends 
71,386 violations were issued to drivers for illegally passing the school bus stop arm.
Nearly 99% of drivers who received and paid a ticket for illegally passing a school bus did not receive a second.
Collectively, Verra Mobility school bus safety programs witnessed a 12% reduction in issued citations from the beginning of the school year to the end.
Most school bus stop-arm violations were issued on Wednesdays.
The worst time for school bus stop-arm violations was between 3-4 pm. 
Source: Verra Mobility CrossingGuard Programs 2022/2023 school year
Safety is the responsibility of everyone. This report card highlights the issues we face today and the solutions available to solve them. Through education and enforcement, we have the power to see positive change in our communities.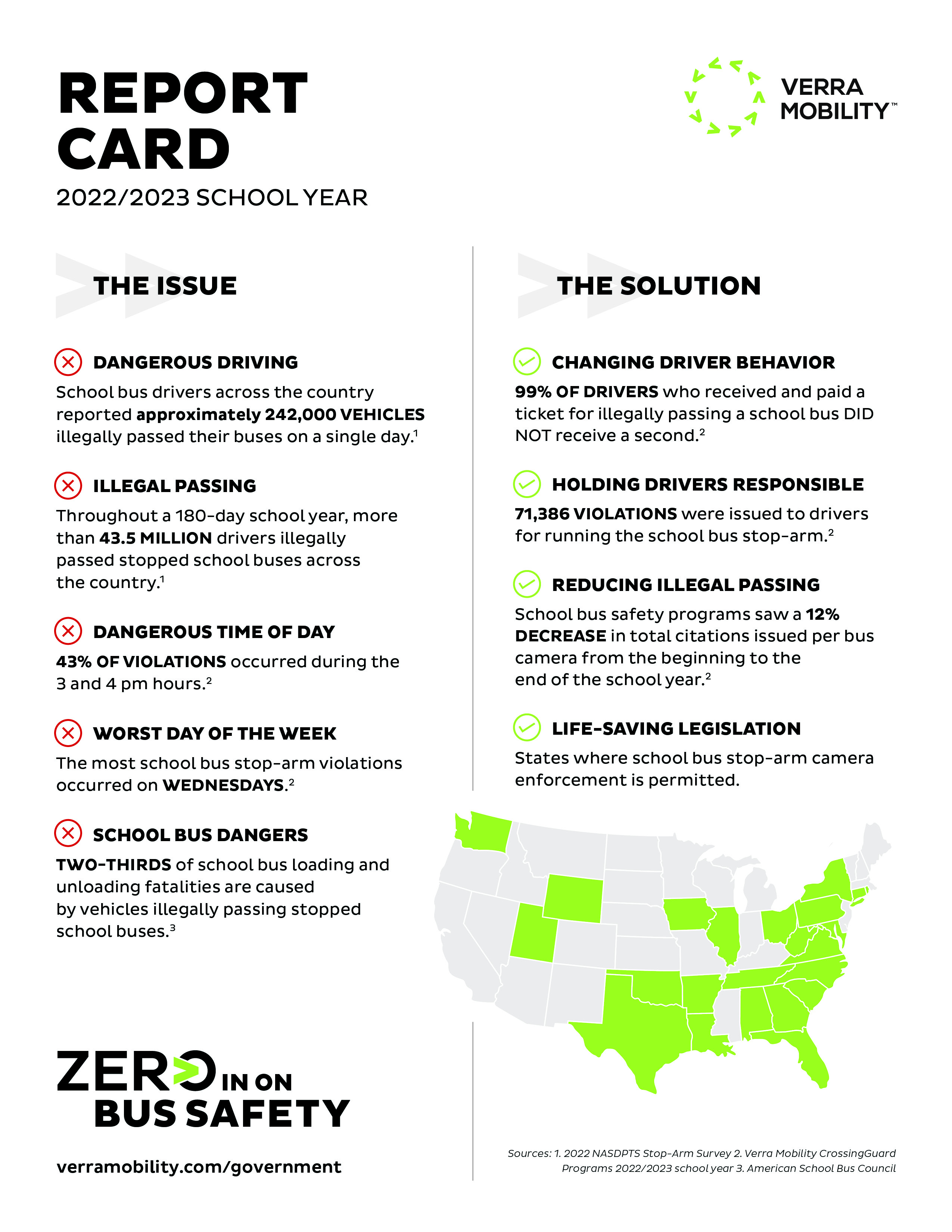 Life-Saving Legislation
While stop-arm laws exist in all 50 states, the data shows that more work is needed to address the problem.
Don't know what the stop-arm laws are in your state? Find them at: https://www.drive-safely.net/school-bus-laws/.
To help combat this issue, more states are working to catch drivers and hold them accountable for illegally passing school buses. Road safety champions have helped to expand and progress life-saving legislation by allowing cameras to be placed outside the bus to record such events.
EDUCATION IS IMPORTANT
Safety belongs to us all and every action counts. Join us in raising awareness by sharing the resources below for download. 
These templates are provided to help you communicate about National School Bus Safety Week. As always, your personal perspective and stories provide additional depth to these communications.
We are committed to promoting and enhancing school bus safety. Let's work together to create a safer environment for students across the nation.
Right-click and 'save link as' to download these graphics and share them on your social media channels or Download the Toolkit: 
ZERO IN ON SAFETY > TAKE THE PLEDGE
Beyond National School Bus Safety Week, we are dedicated to a year-round effort to educate all road users and communities. We invite you to stay informed on ways to improve and advocate for road safety in your community while keeping up to date with the latest in the automated enforcement industry.
Fill out the form to Take the Pledge and stay connected. 
We aim to "zero in on school bus safety," and we hope you will continue to do the same this week and all year.